Canada 2200 t/d CIL plant
The project is EPC project which we signed with Canadian customer authorized by the customer, from engineering consulting, beneficiation test research, engineering design, mining equipment, equipment manufacturing, installation and commissioning to the worker training.We perform the entire process,and finally selected the gold CIL process.
Finish time:under construction at present
Location:Ontario
Capacity:2200t/d
Project Process
Design scale is 2200 t/d, CIL process, the project belongs to the old tailings reelection gold project, the original tailing contains gold grade of 1.06 g/t, beneficiation test research report all slime cyanidation of gold is recommended for the process, the design uses tailings separation - regrinding - thickener - cyanide leaching - carbon adsorption - desorption electrolysis - hydrometallurgical processes.
Details as following
This mine belongs to refractory ore, design uses a closed circuit grinding process. Grinding choose two sets ZTMY2780 ball mill, classification choose φ 200 x 12 groups of cyclone closed circuit. Cyclone overflow fineness of - 325 accounting for 95%
Usingpure oxygen for pre-leaching,total 11 sets of SJ-10.5×11 energy-saving double impeller stirred tank
desorption electrolysis:With 2000 kg/batch of complete sets of high temperature and high pressure desorption electrolytic device,and gold in the electrolytic gold mud contains more than 40%.
Design smelting operation by chlorination wet smelting process, high frequency furnace, gold bullion gold > 99.5%
Carbon regeneration of activated carbon regeneration use wet renewable and pyrogenic process method. Wet regeneration using hydrochloric acid washing, conducted in SXC2000 washing tank. Method to pyrogenic process use activated carbon regeneration furnace ZSL - 80
Using INCO method to remove cyanide, and choosing SJ - 7.5 x 8 double impeller leaching stirred tank,three sets. the final tailings by slurry pump to the tailings dam.
Flowsheet as below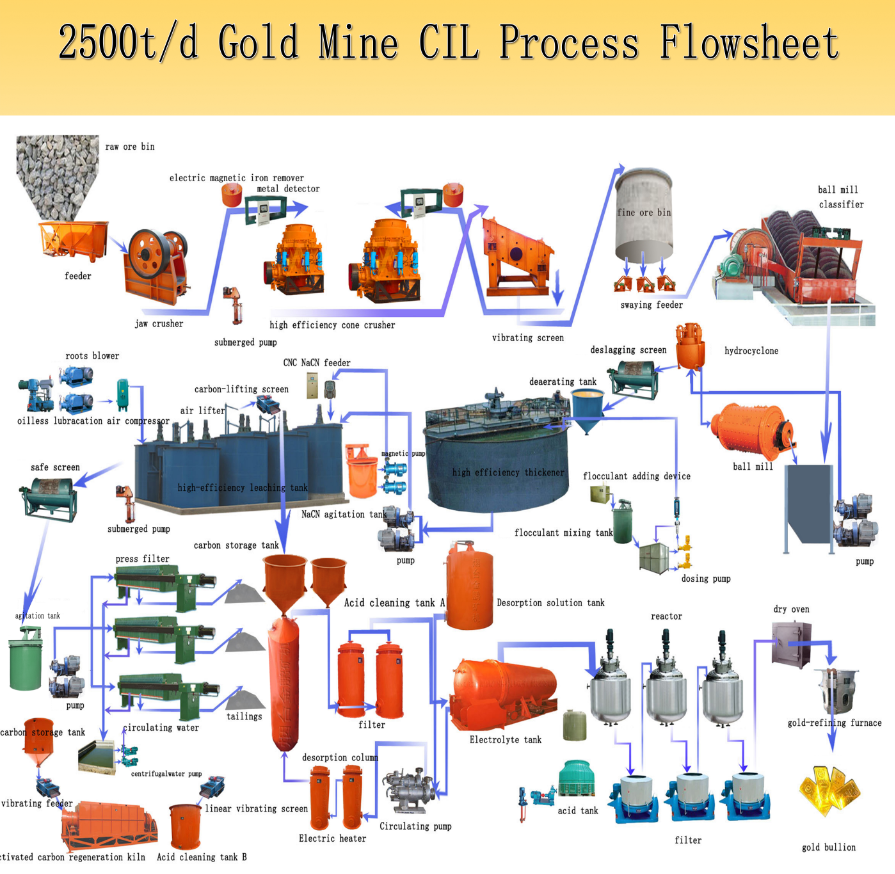 Manufacturing
We have a very strict management for each project, and one people will be responsible for each project from the beginning to the end,which can make sure the whole process smoothly.
Design institute will start from engineering design, precise positioning technology and its products, not only guarantee the technology, but also reduce customer cost and choose the best process.
At the same time, we have a very strict quality management for equipment production,and have passed the ISO 9001:2008 international quality certification. Several large automatic CNC cutting machine, CNC automatic welding machine, 5 meters CNC vertical lathe, CNC lathe, CNC boring machine, and has the longest 15 meters large lathe in Shandong, all of this can guarantee the accuracy of the equipment and the appearance of fine quality.
You can share this to your friends
Please leave a message and we'll get back to you.