Potassium feldspar process flowsheet
Along with potassium feldspar ore reducing, quality down, the requirement of product increasing and mine comprehensive recovery development, introduce gravity separation, flotation, high-gradient separation, etc complex selection process to remove quartz, mica, iron-bearing titanium, etc associated mineral. potassium feldspar is mainly the orthoclase, microcline, perthite, etc, that is silicate minerals of potassium, sodium, calcium, etc alkali metal or alkaline-earth metals.
 Mineral Processing Laboratory

Purpose :
Precious experimental test,costom-made the best process
Majors :
Support:50 beneficiation experts,10 laboratories Devote to mineral processing technology researching for 30 years,the mineral recovery rate increased by 40%-70%.
Introduction
Potassium feldspar mining equipment mainly include jaw crusher, ball mill, desliming bucket, hydrocyclone, strong and week magnetic separator, flotation cell, etc. the main process is curshing-milling-magnetic-flotation, etc.
1. Crushing: firstly, use the jaw crusher to crush massive ore.
2. Ball mill: after crushing, use ball mill to grind ore.
3. Desliming: feed the fine ore into desliming bucket or hydrocyclone to deslime.
4. Magnetic separation: after desliming, use strong and week magnetic separator to separate magnetite and week magnetic mineral. Magnetic separation is very important for potassium feldspar and is the highest efficient equipment to remove irony mineral.
5. Flotation: at present, the strong and week magnetic separator is not suitable for all potassium feldspar ore, the flotation is a good supplement option. We need use collector, which can remove impurities efficiently and remain potassium feldspar. Jinpeng research institute can deploy different flotation agent according to different condition.
6. Acid washing concentrate: use vitriol as acid washing agent, according to acid concentration and iron content in potassium feldspar to adjust, when the vitriol concentration is certain, the iron content is in proportion to vitriol dosage. After acid washing, the Fe2O3 and Fe3O4 are removed and separate ferrous sulfate solution, then get concentrated potassium feldspar powder.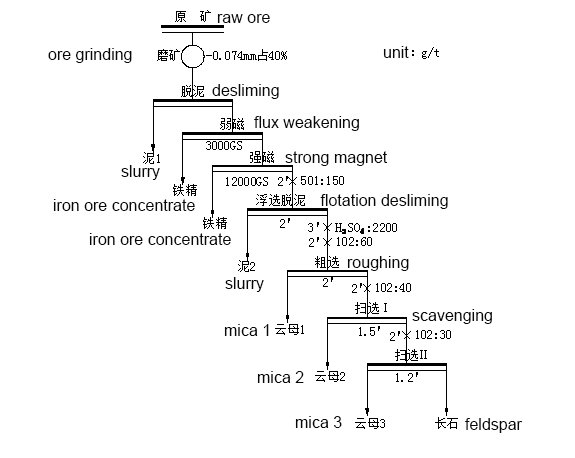 Related case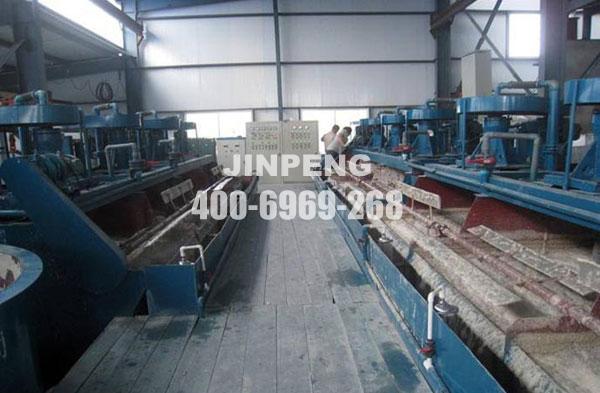 Muping 500t/d Potassium feldspar dressing plant

(Tips: You can add this webpage as favourite, or find it by serach in Google with the keywords below: feldspar processing and so on.)
You can share this to your friends
Please leave a message and we'll get back to you.