Hydrocyclone
The hydrocyclone is a simple piece of equipment that uses fluid pressure to generate centrifugal force and a flow pattern which can separate particles or droplets from a liquid medium. These particles or droplets must have a sufficiently different density relative to the medium in order to achieve separation.
Production capacity:≤2500m3/h
Scope of Application:ore pulp classifier
Principle
Liquids and solids enter the unit and begin traveling in a circular flow. This centrifugal action forces heavier particles downward in a spiral motion to the separation chamber. The particles collect in this separation chamber and are purged from the system. The filtered water is drawn to the separator's vortex and up through the outlet.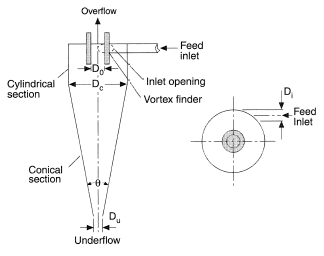 Advantages
Capable of separating fine material from liquid
Can separate liquid from liquid when large differences in specific gravity are present
Accepts variation in feed solids content
Consistent underflow densities
Adjustable underflow densities
Rubber-lined standard; ceramic lining optional
Parameters
Hydrocyclone
Model
Diameter(mm)
Height(mm)
Feeding pressure(Mpa)
Separation size(μm)
Weight(kg)
JAX-75
75
472.5
0.1-0.5
20-60
4
JAX-100
100
499
0.05-0.4
20-60
8
JAX-125
125
590
0.05-0.4
25-65
10
JAX-150
150
786
0.05-0.4
30-75
22
JAX-200
200
1114
0.05-0.4
40-100
36
JAX-250
250
1380
0.05-0.4
40-100
63
JAX-300
300
1490
0.03-0.4
50-150
88
JAX-350
350
1674
0.03-0.4
50-150
135
JAX-500
500
2280
0.03-0.4
74-200
416
JAX-660
660
2720
0.03-0.4
74-200
950
(Tips: You can add this webpage as favourite, or find it by serach in Google with the keywords below: gold cyclone separator, mining hydrocyclone, liquid liquid hydrocyclone, water cyclone separator, hydrocyclone seperator, gold cyclone separator, cyclone gold concentrator, hydrocyclone classification, and so on.)
You can share this to your friends
Please leave a message and we'll get back to you.